Kurtis, my husband, is a travel physical therapist. So, basically what we get to do is pick a spot, tow our 5th wheel to that location, and set up camp for three months! That amount of time allows us to experience some pretty unique, local activities. Its a fine balance between being tourists but also diving in just a bit deeper than just popular attractions. We get to live like locals everywhere we go!
On our first rotation in Pearsall, Texas, a little town south of San Antonio, we purchased a 2001 5th wheel camper. It came with its quirks that is FOR SURE. But over the course of several months (and several updates!) we settled in and it has felt like home ever since. It has been nice to have this familiar sanctuary to step into while our surroundings change so often.
Maybe you are interested in updating a camper, maybe you are just into following fixer upper stories, or maybe you don't care at all! But I have tried to keep track of our little updates to post along the way just in case you are curious.
The Original Camper: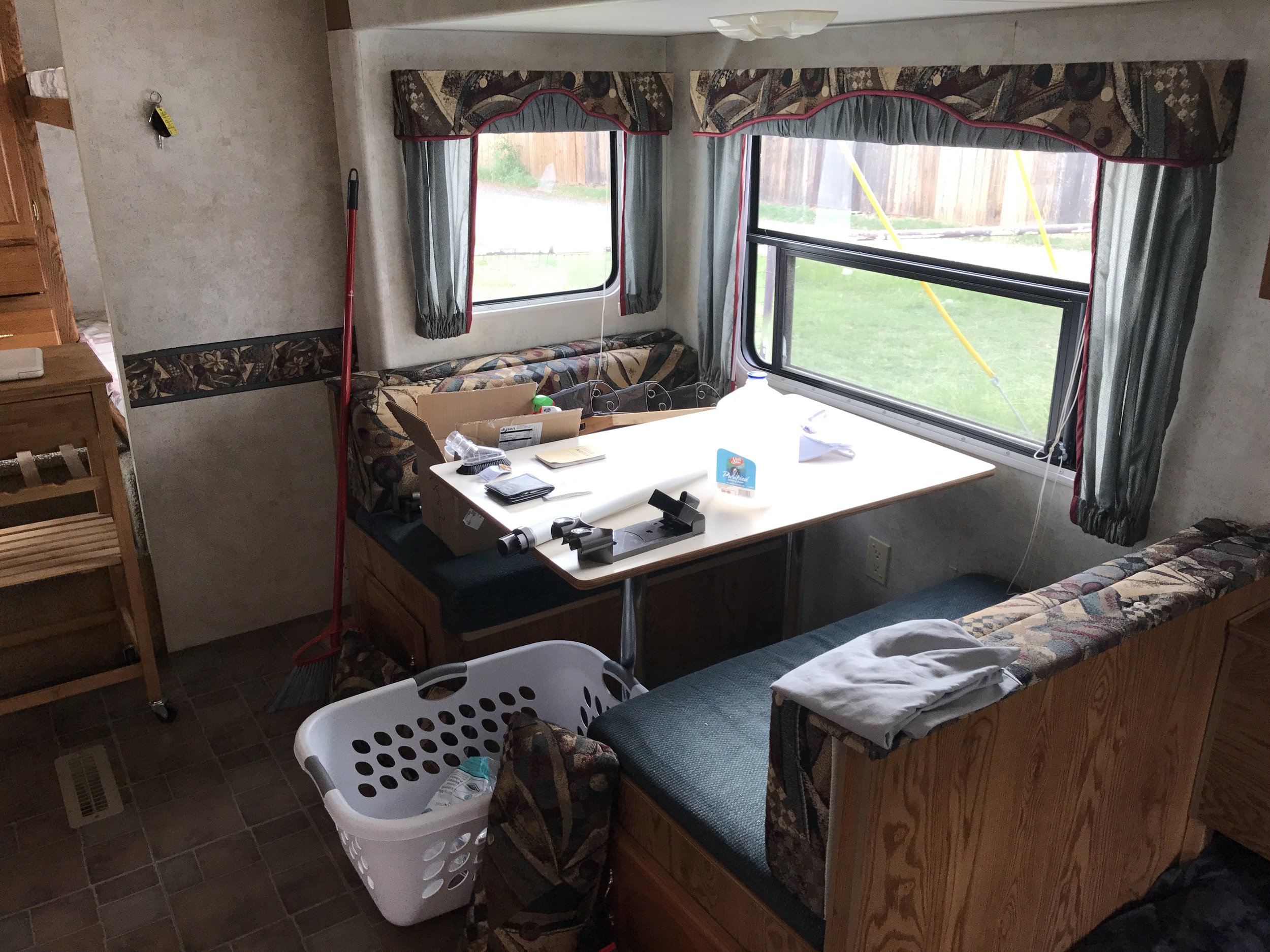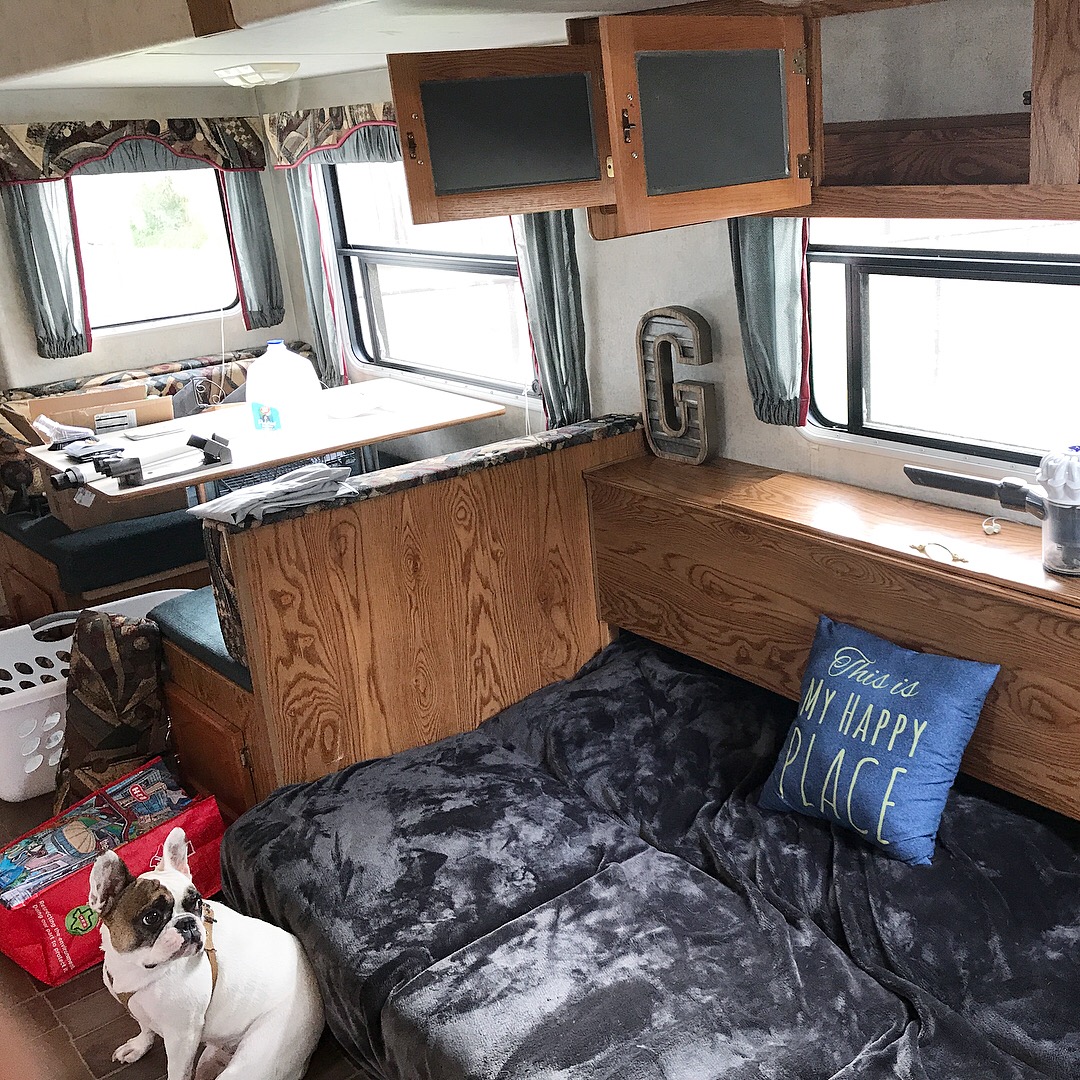 Yes... yes, take it all in. A lot of fake wood, ugly flooring, and tacky wallpaper.
We found out pretty quickly that this camper needed some major updates. A previous owner somehow punctured the water barrier on the corner of our slide out and it had some major rot... who wants to fall through the camper floor? NOT US. So, right before our honeymoon, we dropped it off to get the slide out base floor replaced.
But here is where it starts to get a little better...
Phase 1 - Cabinets
It is super important to use the correct materials when renovating a camper. Because the wood is not real, it has a difficult time absorbing normal paint. Oil-based paint is the way to go, guys! Don't skimp out... I know it looks daunting and it will take you a lot longer, but PRIME. PRIME. PRIME.
KILZ Original 1 gal. White Oil-Based Interior Primer, Sealer and Stain-Blocker $16.48
*This basically seals your cabinets from retaining mold and other nasty stuff so not only does it prime, it protects!
BEHR Bakery Box White Oil-Based Paint
*I got mine at Lowes but most places carry this brand!
Oil paint brushes in various sizes
*At least have one large and one small so that you can reach the tight spots but also not
waste time covering large portions of your cabinets.
Blue Paint Tape
Paint thinner to clean paint brushes
*This is SO important... you CANNOT clean oil-based paint off of anything with just water.
Phase 2 - Flooring
Since campers need lightweight and flexible materials, we put in vinyl that looked like real wood flooring. This was one of my favorite updates. Extremely difficult and maybe not for complete amateurs but definitely worth the time spent.
Home Decorators Collection - Stony Oak Grey Click Vinyl Plank
Box Cutter + Replacement Blades
*You will go through blades quickly! Don't keep trying to use a blade that is dull.. you will get frustrated and it's worth replacing.
It is still a major work in progress but we are learning along the way and enjoying the process! If you have any questions regarding renovations or just the quirks of owning a camper, we would love to answer. We have found the camper community to be so friendly and welcoming and we plan to be a part of that.
Keep an eye out for my next blog post to see recent updates!
Aryn